Sale!
Alan LX Hairpiece Ortech ON RITE
Simply order your Hair System and one of our Expert consultants will contact you via e mail or on the phone to ensure the Hair System you receive is absolutely perfect one for you… Color, Model, Ready-made or Custom! We personally call our buyers worldwide as needed to ensure you are absolutely happy with your purchase.
The Alan XL combines conventional perimeter attachment design with a lace front. This design is for the older client who likes more of a receding hairline with an extra light density of hair. This design has multiple possibilities, as the lace front can be altered to meet the hairline demands of your client. The Alan XL can be clipped on, taped on, perimeter bonded or grafted. You be the judge.
SIZE: 7 1/2″ X 9 1/2″
DENSITY: Extra light in the lace front. Light density remainder of unit.
TYPE: Human Hair with Synthetic Grey
LENGTH: 4″ – 6″
WAVE/CURL: 28mm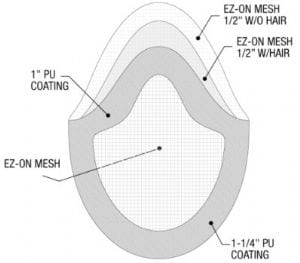 Choice of colors:After placing your order, you can e mail us , or call us @ 800-931-1000 or 818-400-2007 or mail us a hair sample to specify your choice of hair color. We will match your hair perfetly before shipping your order.
Standard colors : 1, 1B, 1B10, 1B20, 1B40, 1B50, 1B65Y, 1B80Y, 2, 210, 220, 3, 310, 320, 340, 350, 365Y, 380Y, 4, 410, 420, 4ASH, 4R, 5, 510, 520, 540, 550, 565Y, 580Y, 5R, 6, 610, 613, 620, 6R, 6RD, 7, 720, 740, 7ASH, 8R, 10R, 12R, 17, 1720, 1740, 1765Y, 1780Y, 17R, 18, 1820, 20, 2020, 20R, 22R, 30R, 60RY