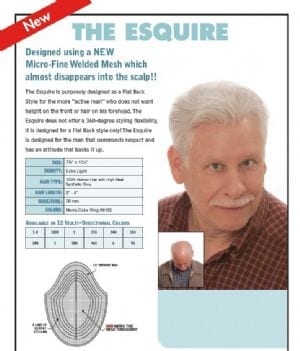 Simply order your Hair System and one of our Expert consultants will contact you via e mail or on the phone to ensure the Hair System you receive is absolutely perfect one for you… Color, Model, Ready-made or Custom! We personally call our buyers worldwide as needed to ensure you are absolutely happy with your purchase.
Place your order first, for color choice call our experts at
1-800-931-1000 or 1-818-400-2007
Esquire
Designed using a new micro-fine welded mesh which almost disappears into scalp . The Esquire purposely is designed as a flat  back style for the more active men who does not want height in the front or hair on his forehead. The Equire does not offer a 360 degree styling flexibility, it is designed for a flat back style only.The Esquire is designed for a man who commands respect and has an attitude that backs it .
SIZE: 8″ X 10″
DENSITY: Light
TYPE: Human Hair with Synthetic Grey
LENGTH: 2″ – 2 1/2″
WAVE/CURL: 6mm